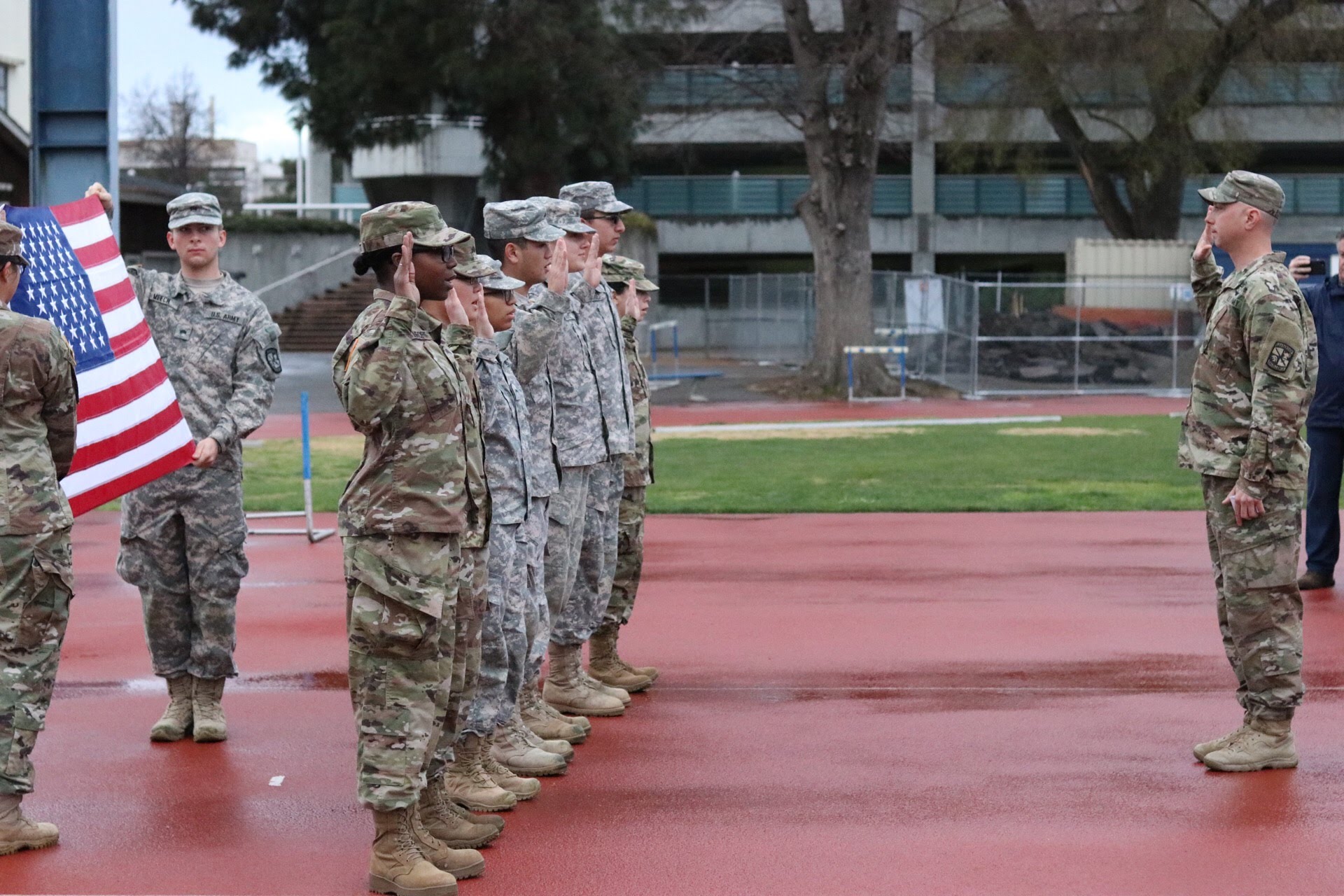 UC Davis Army Reserve Officer Training Corps (ROTC)
For more than 200 years, the U.S. Army has trained some of the world's most renowned leaders. From captains of industry to presidents of the United States, many begin their paths as Army Officers. Today, that same world-class training is creating the next generation of leaders. The path to Army officership starts right here, at the UC Davis Army Reserve Officer Training Corps (ROTC) program. When you join our program, you too will gain the skills and the strength to become an Army Officer.
The UC Davis ROTC Program has the challenges, adventures, and opportunities to develop students in to Army Officers in two to four years. We also provide campus-based Army ROTC scholarships that can pay for a student's Tuition & Fees or Room & Board. The program provides classroom and hands on learning instruction to facilitate the leadership development of a future Army Officer.
Cadets are also offered opportunities to further develop their leadership skills outside of the University during the summer after their Sophomore and Junior Years. A variety of opportunities are available to top Cadets in the program which include some of the U.S. Army's premiere schools - Basic Airborne and Air Assault Schools, the Foreign Military Cultural and Leadership Program (CULP) and the Project Global Officer (GO), and the Cadet Leadership Training (CTLT) program. In the past, UC Davis Cadets have participated in these opportunities to locations like Peru, China, Bulgaria, South Korea, and many other locations across the globe.  Check out our "Cadet Life" page for more information on these great opportunities offered to Cadets.
With the ROTC program, enrolled Cadets can choose to serve in the active component of the U.S. Army, the Army Reserves, or the National Guard in one of the 17 career fields that the Army offers. Cadets will then join the ranks of Army Officers commissioning as Second Lieutenants from graduates of West Point, Officer Candidate School, and from ROTC programs nationwide upon the successful completion of ROTC training and obtaining their Bachelor's Degree
The UC Davis ROTC is the parent program for the Forged Gold Battalion. The Army ROTC Program at California State University Sacramento (CSUS), also known as Sacramento State, is a proud part of our organization. For those interested in the Army ROTC Program at CSUS, click here.
Check out our additional links for more information on the program, eligibility, and ROTC scholarship opportunities whether you're a High School Student, College Student, or College Transfer Student.