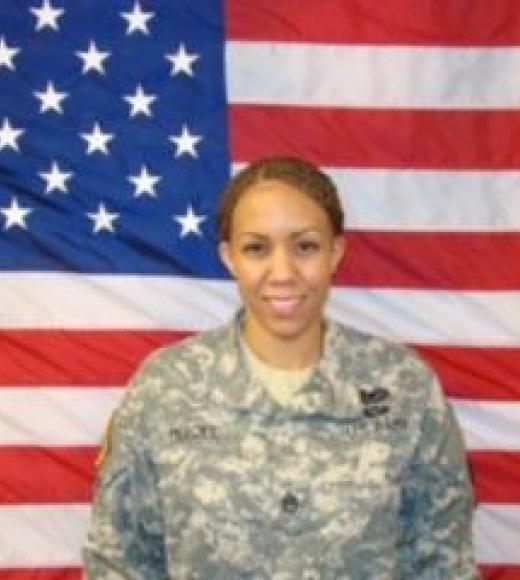 Unit

Military Science Instructor
Bio
Military and Civilian Education:
SSG Jamie Mercill enlisted in the Active Army January 2004 as a Human Resources Specialist. She attended Basic Training and Advanced Individual Training at Fort Jackson, South Carolina.  She then went on to Fort Benning, Georgia where she attended AIRBORNE school, a trained to jump out of airplanes.  Her first duty station was Fort Bragg, North Carolina where she was assigned to the 82nd Airborne Division-G1.  Subsequently she served in the Brigade S1 of the 1st Calvary Division at Fort Hood, Texas. Her next assignment was Fort Richardson Alaska where she served in the 4th Brigade, 25th Infantry Division as an Assistant S1 NCOIC for the 725th Infantry Battalion.  She then returned to Fort Bragg, North Carolina, where she served as the S1 NCOIC for the Special Warfare Medical Group & Special Operations Training Center under the United States Army John F. Kennedy Special Warfare Center and School.  She currently serves a Military Science Instructor and Human Resources Technician at University of California, Davis. Her training and qualifications include Master Resiliency Trainer, Airborne qualified, Combat Life Saver, Unit Prevention Leader, and Army Instructor Qualified.
Decorations:
SSG Mercill's awards and decorations include: the Army Commendation Medal (4), Army Achievement Medal (6), Army Good Conduct Medal (4), National Defense Service Ribbon, Afghanistan Campaign Ribbon with 1 Bronze Star Device, Iraqi Campaign Medal with 1 Bronze Star Device, Global War on Terrorism Expeditionary Service Medal, Army NCO Professional Development Ribbon with '2' Device, Army Service Ribbon, Army Overseas Service Ribbon with '2' Device, NATO Medal, Army Meritorious Unit Citation, Army Superior Unit Award Ribbon, Parachutist Badge and Combat Action Badge.